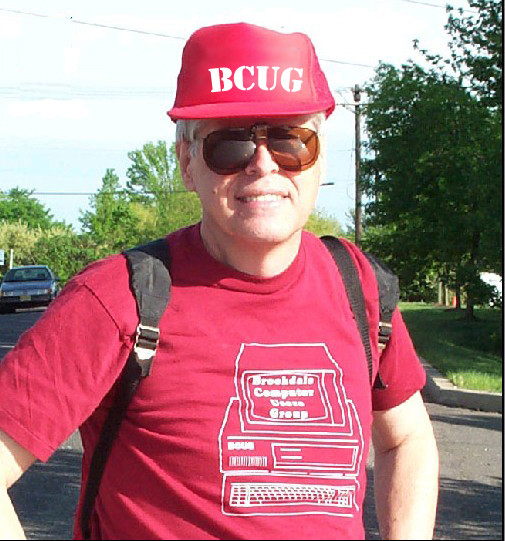 Fred Kagel
"40 years of BCUG: A look back at the club's history and a personal journey"
MEETING DATE: Thursday, May 23, 2019
6:45PM - 8:45PM in


                    

The Middletown Library Large Meeting Room

                    

55 New Monmouth Road, Middletown, NJ 07748


                    
Summary
Fred Kagel will speak on "40 years of BCUG: A look back at the club's history and a personal journey."
Description
Join Fred Kagel, the BCUG Historian, as he re- counts the history of BCUG since 1978 and reflects on personal influences and confluences that motivated him towards a 40-year career in computer education.
Learn about past club presidents, workshop leaders, newsletter editors and just plain helpful people in the club that made and make things happen. You may not know all of the people involved, nor fully understand the bare-bones technology encountered back then, but you're now just as much of the computer merry-go- round as any who just happened to get swept up earlier. And then again, your own journey may parallel Fred's.
Fred will dig into his anecdotal memory bag and relate tales and illustrations you won't want to miss:
Why handcuffs were once necessary at club meetings
What happened when the lights went out in the middle of a meeting
Who Bert and Ernie and 'RAY' really were
An observation of the difference between boys with com- puters vs girls with computers
Lessons learned from cassette tapes applied to ribbon cables
The infamous 'dip switch #4'
The Paradox of a cool Nun heeding the warning of Y2K
The dumbest 'mistake' Fred ever made
And more ..., much more ....
Also, the virtual time capsule that was stashed away in 2003 with predictions and warnings will be 'opened up.'
Bring your children, bring your grandchildren!
Fred's Background
Fred Kagel is currently the Excel Workshop Leader. In the past, he has served as club president, newsletter editor, and the BBS SysOp. He is a frequent contributor to the club's current BBS and to BYTES.
One of the other things Fred liked to do as a kid was to take radios apart. Couple that with a subscription to Popular Electronics and he started to garner an early interest in electronics. Every time his subscription ran out and be renewed, it seemed like vacuum tubes gave way to transistors, transistors turned into integrated circuits, and integrated circuits evolved into computer kits! He built a Volt-Ohm Meter and put together a Short Wave to AM Converter from kits and magazine articles. He became a ham radio operator while in high school.
Then came the clarion call, as a result of Sputnik in 1957, for anyone who had the slightest math or science ability to go off to college to major in the sciences, which Fred did as a physics major. However, during the turbulent 60s, Fred questioned himself — why was he counting Newton's rings in the physics lab at 1 o'clock in the morning? He was also frustrated with large calculus classes of 250 students. So, physics as a major, gave way to experimental psychology with a minor in statistics.
His early work history included programmable calculators, Fortran, the IBM 360, and timeshare terminals.
Fred eventually moved to Freehold and worked at 3M's magnetic tape division in data analysis. However, he always had an entrepreneurial urge. He left 3M and opened up a tutoring center based on teaching machines.
Meanwhile, the personal computer revolution was just beginning.
One day a parent came to his tutoring center and was looking for a science enrichment program for a group of 7 and 8-year-olds. Fred fortuitously had just bought his first computer. This led to the founding of the Computer Institute for Children — to teach children about computers. Truth be told, these kids knew more about computers than he did. One kid was already programming an RCA 1802 IC.
Events moved quickly as public schools caught up with their own computer classes. Fred moved on to teaching adults and consulting with schools, companies, and governmental agencies. Over the course of 40 years, he has trained several thousand students.