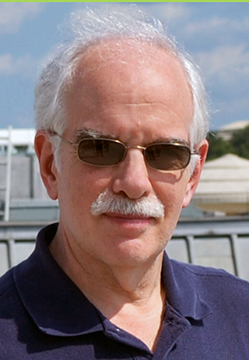 Gabe Goldberg
"Two tools: Hard Disk Sentinel and iCloud"
MEETING DATE: Thursday, July 25, 2019
6:45PM - 8:45PM in
The Middletown Library Large Meeting Room
55 New Monmouth Road, Middletown, NJ 07748
Summary
July speaker Gabe Goldberg on "Two tools: Hard Disk Sentinel and iCloud."
Description
Gabe Goldberg plans to discuss two software tools he recommends to avoid problems with internal hard drives in PCs running Windows: Hard Disk Sentinel (HDS), available from the Hard Disk Sentinel website, a powerful/flexible multi-system hard drive (HD) and solid-state drive (SSD) monitoring and analysis program, and Apple Inc's own iCloud cloud storage service, available from Apple by following these instructions.
It finds, tests, diagnoses and repairs hard disk drive problems, reports and displays SSD and HD health, performance degradations and failures. HDS gives complete textual description, tips and displays/reports the most comprehensive information about HDs and SSDs in the computer and in external enclosures (USB hard disks / e-SATA hard disks). Many different alerts and report options are available to ensure maximum safety of valuable data.
HDS monitors hard disk drive / HDD status including health, temperature and all S.M.A.R.T. (Self-Monitoring, Analysis and Reporting Technology) values for all hard disks. And it measures disk transfer speed in real time which can a benchmark or detect possible hard disk failures, performance degradations.
Gabe also will describe/illustrate/demonstrate using iCloud across various devices: Windows 10, iPad, and iPhone (Mac too, of course, but I won't bring that). iCloud is Apple's one-stop service integrating Mail, Contacts, Calendar, Photos, iCloud Drive, Notes, Reminders, Pages (word processing), Numbers (spreadsheet), Keynote (presentations), Find Friends, Find iPhone, Settings, and Launchpad. While I don't use all of these, those I do use are enhanced by always being available on any of my platforms. I'll only discuss iCloud; other cloud services provide similar functions.
Gabe's Background
Gabe's enjoyed serving as APCUG Region 2 Advisor for longer than he can remember. In that role, he's liaison for APCUG Association of Personal Computer User Groups) to groups in NJ/DE/MD/DC/VA/NC/WV/PA. He evangelizes for user groups, believing that user groups are an antidote to feeling alone with technical activities, challenges, problems, and triumphs.
He supports many national and local user groups. He served as Director of (Meeting) Programs for Washington, DC-area CPCUG, when it was one of the oldest and largest United States PC user groups, where he organized and chaired the internet SIG. In addition, he served on User Support Team for CPCUG's domain and on CPCUG's Board Of Directors. He was founding member and director of several local user groups, and held volunteer management jobs in an international IBM user group. He's given hundreds of presentations to these and other groups and conferences. He facilitated and helped exploit donations of commercial hardware and software to user groups. He's presently Director and APCUG Representative for PATACS, Potomac Area Technology and Computer Society.
As a technology writer, editor, and consultant, he's written for many consumer and industry publication and audiences from consumers to computer professionals. He worked for a small software company as VP of Technology and Business Development, responsible for product planning, evolution, and development, along with documentation and customer support.
He also worked in the leading-edge data center of a federally chartered not-for-profit consulting organization where he developed widely used software tools aiding other installations' mainframe use; before that he designed and developed operating systems at IBM.
Gabe shared responsibility for AARP's online Computers and Technology Web site and forums; before that, he co-hosted America Online's advanced Internet forum. He volunteers with his county's law enforcement and for other community organizations.