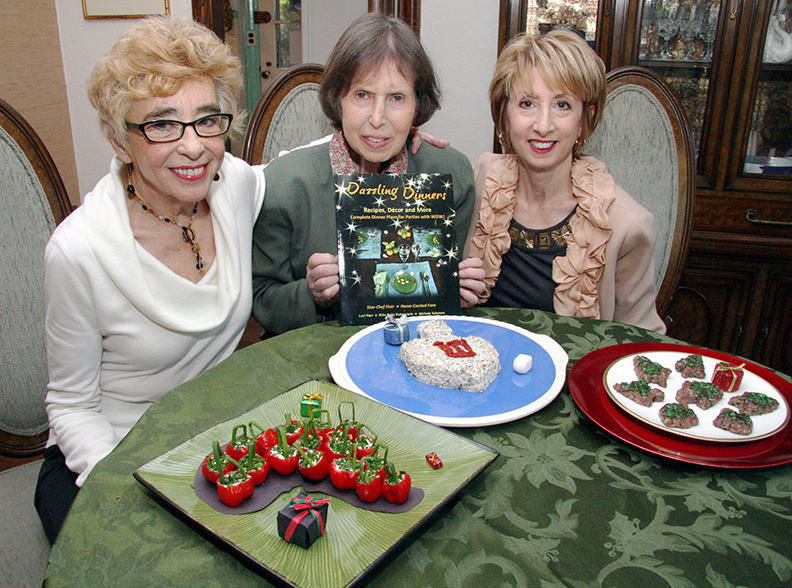 Retired computer mavens, authors, and party planners
Billa Reiss Rubenstein, Michele Salomon, and Luci Paul
"Dazzling Dinners through Technology and Culinary Creativity"
MEETING DATE: 
Thursday, May 27, 2021
6:45PM - 8:45PM in
via Zoom virtual meeting.
About "Dazzling Dinners through Technology and Culinary Creativity"
"Technology and Culinary Creativity" will be the featured topic presented by Luci Paul, Billa Reiss Rubenstein and Michele Salomon, authors of the book "Dazzling Dinners", at the next General Meeting of the Brookdale Computer User Group, starting at 6:45 p.m. Thursday May 27 via Zoom virtual meeting.
Retired professionals all, Luci and Billa hold Ph.D.s and were professors in the psychology departments of, respectively, Temple University in Philadelphia and St. John's University in Staten Island. Michele worked as executive assistant to upper-echelon managers in major hotels and hospitals in the New York area.
"We are retired professionals who, ages ago, used IBM mainframe computers, SPSS and happily forgotten software in our jobs," they write about themselves.
"With retirement, we use our PCs and Macs for serious challenges like writing a book as well as the usual uses. We're neighbors and friends who love to cook and entertain with creative dinner parties. Our parties were lots of fun and garnered lots of kudos from guests so we decided to write them up in book form.
"We'll talk about how the project got started, the technology we used in getting the book written, setting up websites and blogs and, in the process, discovering how technology has transformed ordinary, day-to-day cooking and promoted culinary artistry."
"Star-chef flare with home-cooked fare!" gushes the author of the blurb on the book on Amazon.com. "Dazzling Dinners provides complete instructions for turning out WOW! dinner parties that emphasize fun along with food that is visually striking, interesting and seriously delicious. There are twelve comprehensive Dinner Plans, one for each month of the year and each based on an intriguing theme that is imaginatively and distinctively developed in food and décor. Dinner Plans are designed to knock out the guests, not the cook. Recipes are easy to medium in difficulty and complexity. Suggestions for table and room décor are specific and straightforward. The kitchen novice will appreciate the clear and detailed instructions, user-friendly recipes and web site support."
Can self-taught cooks cook up a clever and classy cookbook? Certainly. Come hear how!
Click here for the author's website; click here for the Amazon.com page for their book (this is the way to buy a copy).