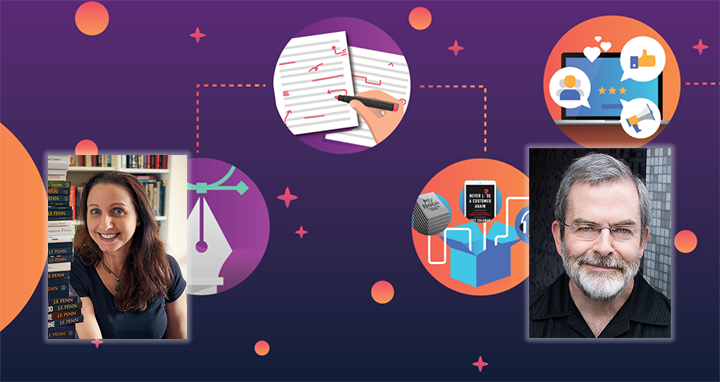 Jouranlist and author Joanna Penn in conversation with
electronic publishing analyst and author Thad McIlroy, discussing
"The Future of Publishing: A.I., Mixed Reality, Machine Learning, And More"
MEETING DATE: 
Thursday, June 24, 2021
6:45PM - 8:45PM in
via Zoom virtual meeting.
About "The Future of Publishing: A.I., Mixed Reality, Machine Learning, And More"
Joanna Penn interviews and has a conversation with Thad McIlroy about the future of writing and publishing, at the next General Meeting of the Brookdale Computer User Group, starting at 6:45 p.m. Thursday June 24 via Zoom virtual meeting.
McIlroy has analyzed the impact of Artificial Intelligence (A.I.), Machine Learning and Mixed Reality on the content of what we read and how it is created, and published and distributed. Joanna supports writers in their craft as well as writing herself and publishing a blog. Their conversation will be of interest to readers, writers and all of us impacted by the use of Artificial Intelligence and Machine Learning on our lives especially what we read and how it influences us.
Joanna Penn is an award-nominated, New York Times and USA Today bestselling thriller author as J.F.Penn with over 30 books which have sold over 600,000 copies in 162 countries and 5 languages.
Her site, TheCreativePenn.com has been voted in the Top 100 sites for writers by Writer's Digest.
She spent 13 years as a business IT consultant in large corporates across the globe before becoming a full-time author-entrepreneur in September 2011. She is a podcaster, international speaker, and award-winning creative entrepreneur.
Thad McIlroy is an electronic publishing analyst and author, and president of The Future of Publishing, based in San Francisco and Vancouver, BC.
A well-established expert in the technology and marketing issues surrounding electronic publishing and the Internet, he has authored a dozen books and over 300 articles on these topics. McIlroy served for five years as program director for Seybold Seminars, the publishing industry's premier technology conference.
He is a founding partner in Publishing Technology Partners, a new consultancy focused on a broad range of strategic technology issues in publishing.
In 2006 he launched www.thefutureofpublishing.com, the most comprehensive source of information on the present and predicted outcomes of all sectors of the publishing industry.